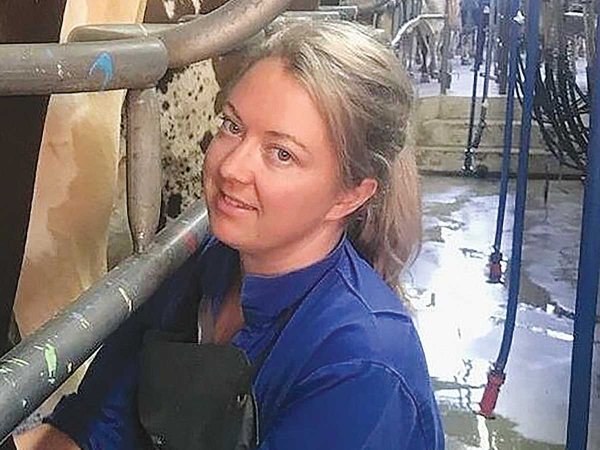 Sophia Clark didn't think she would end up a dairy farmer, but a season of milking Jersey cows has shown her that a career in farming can offer both a business and a lifestyle.
Sophia and her partner Aaron Mills are 50/50 caterers for Bernie and Gaye Hermann in Paengaroa, near Te Puke, where they milk a herd of 550 elite Jersey cows.
Sophia says the herd, which is in the top 1% of all breed herds based on breeding value (BW), is a perfect fit for the farm.
"We are a hilly farm, using a weaker input system and treating once a day during the summer. The jerseys are well suited to our farm and allow us to grow the way we want – not too much time on the tractor or too many bells and whistles – just a simple, efficient and profitable system.
"We have found the Jerseys to be a tough, low-maintenance animal. They have good fertility, calve easily, and with a flatter lactation curve, they move once a day with no breaking conditions, even in a dry summer. Our simple system allows us to achieve a work-life balance, "explains Sophia.
After graduating from Lincoln with a Bachelor of Commerce and Agriculture, Sophia, who did not come from an agricultural background, became a shepherd before spending time abroad.
Upon her return to New Zealand, she took a job on a dairy farm near Cambridge, where she met her partner Aaron. It was the first time that Sophia had tasted the Jersey draft. She says she liked the simplicity of the system with an emphasis on getting the basics right and getting profitable production.
When the couple bought their first herd of crossbreed and Jersey animals, they experimented with breed options before moving the herd back to Jersey.
"This may be a controversial opinion, but we felt that by breeding crossbreeds we were getting animals that had the frame of a Jersey but the conformation of a Frisian," says Sophia.
"We wanted a uniform herd of strong, bulky animals with good conformation that would mount easily to the calf and perform well under low to medium intake. system."
After sharing the milking in Matamata for four years, the couple had the opportunity to buy the herd of their dreams.
"It was a difficult decision to make, as we were proud of the herd we had built, but we had the opportunity to increase the herd size and purchase an elite group of animals with solid indices. and more than 60 years of breeding behind them. . "
The investment has paid off. The couple have several animals under contract with LIC this season and have found huge demand for their excess stock.
"This season we have sold almost all of our surplus calves. There has been a huge demand for our surplus Jerseys and also for our Jersey Angus, and although selling calves is not our primary focus as dairy farmers, it is a nice bonus.
The pair are currently busy mating and will be AB for five weeks using LIC's Jersey Forward Pack, followed by five weeks of short gestation Angus bulls.
They are aiming for a calf rate at six weeks of 78% and a void rate of less than 10% from their 10 week mating. The couple do not use any intervention for the herd but say they have always had high submission rates from their Jerseys.
"Jerseys calve easily and even slightly larger Jersey Angus calves are no problem. The advantage is that the cows recover quickly and cycle well before mating, as we see in our herd, "explains Sophia.
"We are really looking forward to having our first season under our belt and seeing what can be achieved with an elite Jersey herd. "
Leave a reply